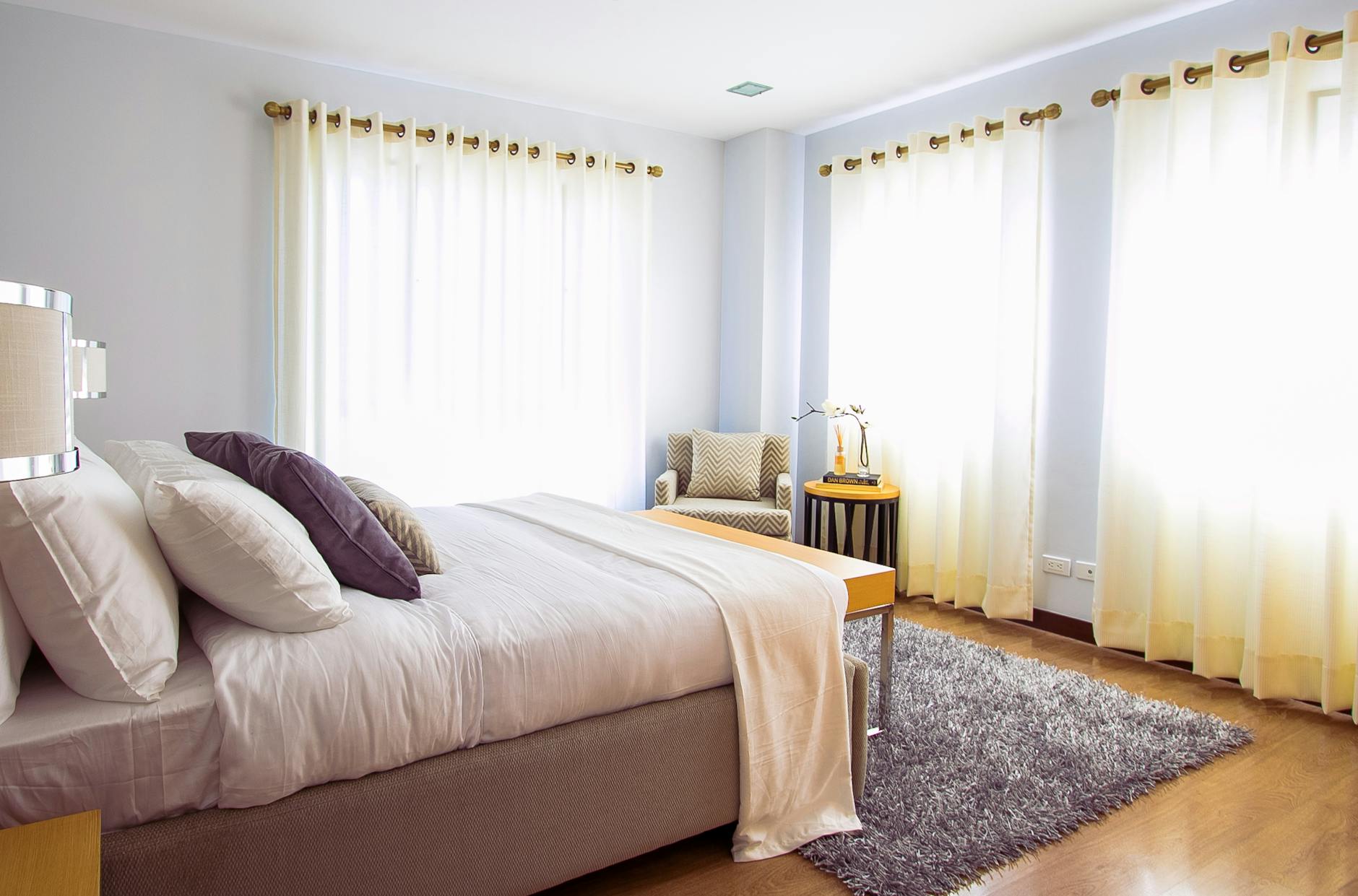 Image Source
It is often a tough choice to make when you have to look into different options to purchase the interior items for your house. You have to choose the very best out there for your home, especially when it comes to windows. 
Windows are the most underrated area that we often take for granted as covering windows is an essential part of the entire decorating process. Homeowners have different ways of covering their windows. Some prefer thick blinds whilst others may opt for curtains. All types of coverings have their own sets of pros and cons. Before you decide to purchase roller blinds online in Sydney, check out our comparison article in which we have shortlisted some of the distinct features of curtains and blinds. 
Curtains: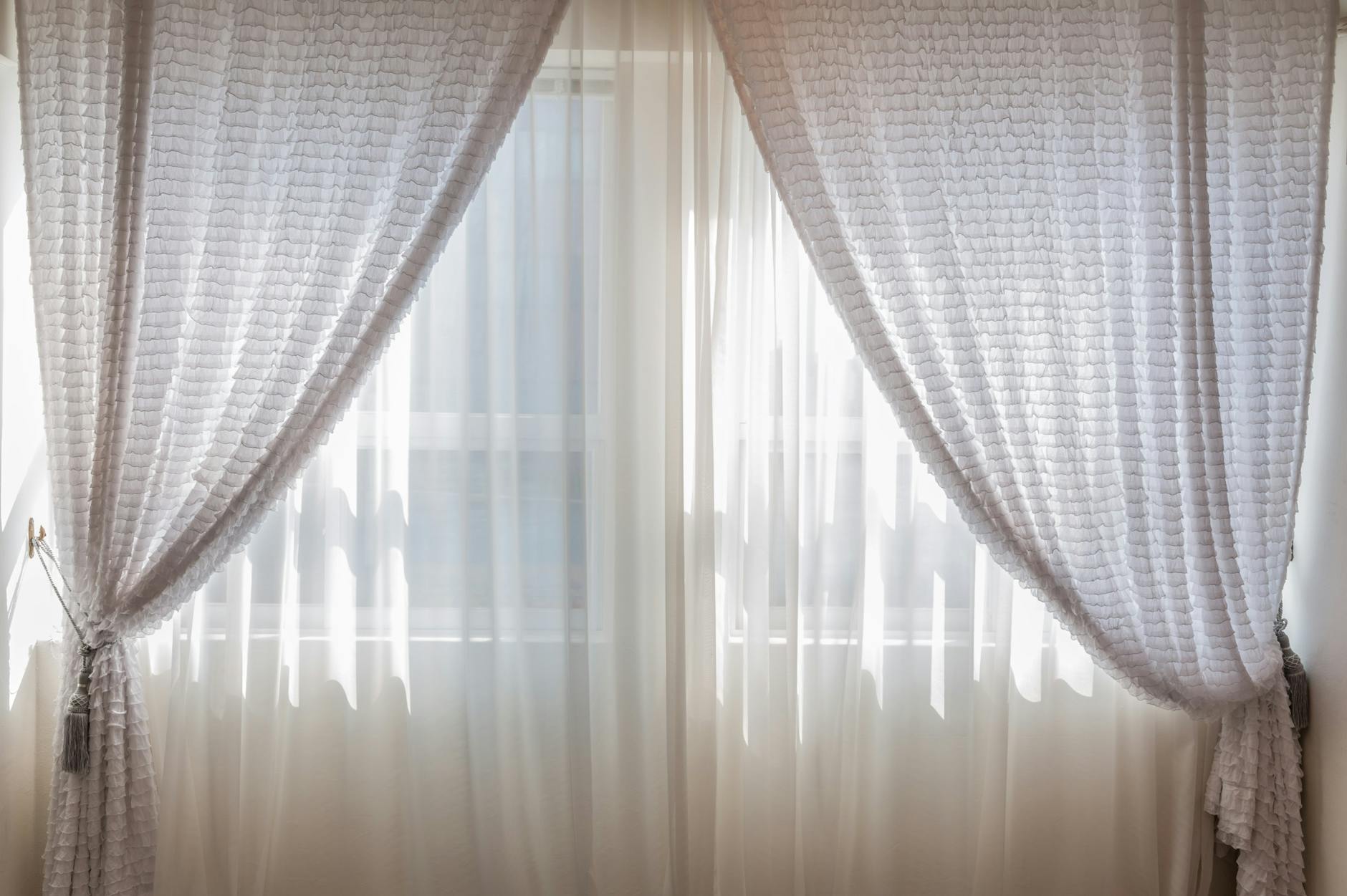 Source
What are curtains? Curtains are window coverings made of lightweight fabric. They have been around for a hundred years draped to a rail to add a luxury finish to the spaces. Curtains are installed on the inside of the house and come across the windows vertically. 
Aesthetic: 
Curtains are found in a wide range of widths, lengths, fabrics colors and of-course patterns, due to which, they have been a popular choice among people for years. The best part about installing curtains on your home's windows is that they flaunt homey and relaxing feel. Your choice in the fabric will determine the functionality and aesthetic of how the curtain will add up to the overall oomph of your interior. Curtains have the potential to completely change the overall ambiance and feel of a room. They also make a room look less bare through their lavishness. If you have a great taste of colors, you can mix and match different color patterns to further beautify your interiors. 
Cost-Effectiveness: 
Cost is one of the biggest issues when it comes to home interior. Curtains are relatively cheaper than blinds because they come in all forms. Softer fabrics are relatively cheaper than wooden blinds. They may differ on price points based on the kind of fabric or texture of the material but can still be less costly than a hard wooden blind.
Warmth: 
When it comes to blocking the harsh sunlight in summers, curtains are very effective. They are good at retaining heat and also help to increase the energy efficiency of a home. While they may be great at keeping the light at bay, they don't really do much for light filtering. 
Maintenance: 
Cleaning curtains require a little hassle than that of the blinds. It is time-consuming and curtains can easily ware out by constant washing or dry cleaning. Banishing dirt and stains requires a lot of involvement. 
Sound Control: 
Curtains and blinds both offer better insulation and soundproofing. Curtains lack the slats through which heat escapes. It has been proven that curtains reduce heat loss by up to 37% percent during winters as compared to blinds. Both curtains and blinds aid in sound absorption to keep out noises. But curtains are paces ahead, especially if made of heavyweight material such as velvet fabrics or velour when it comes to blocking sound. 
Blinds: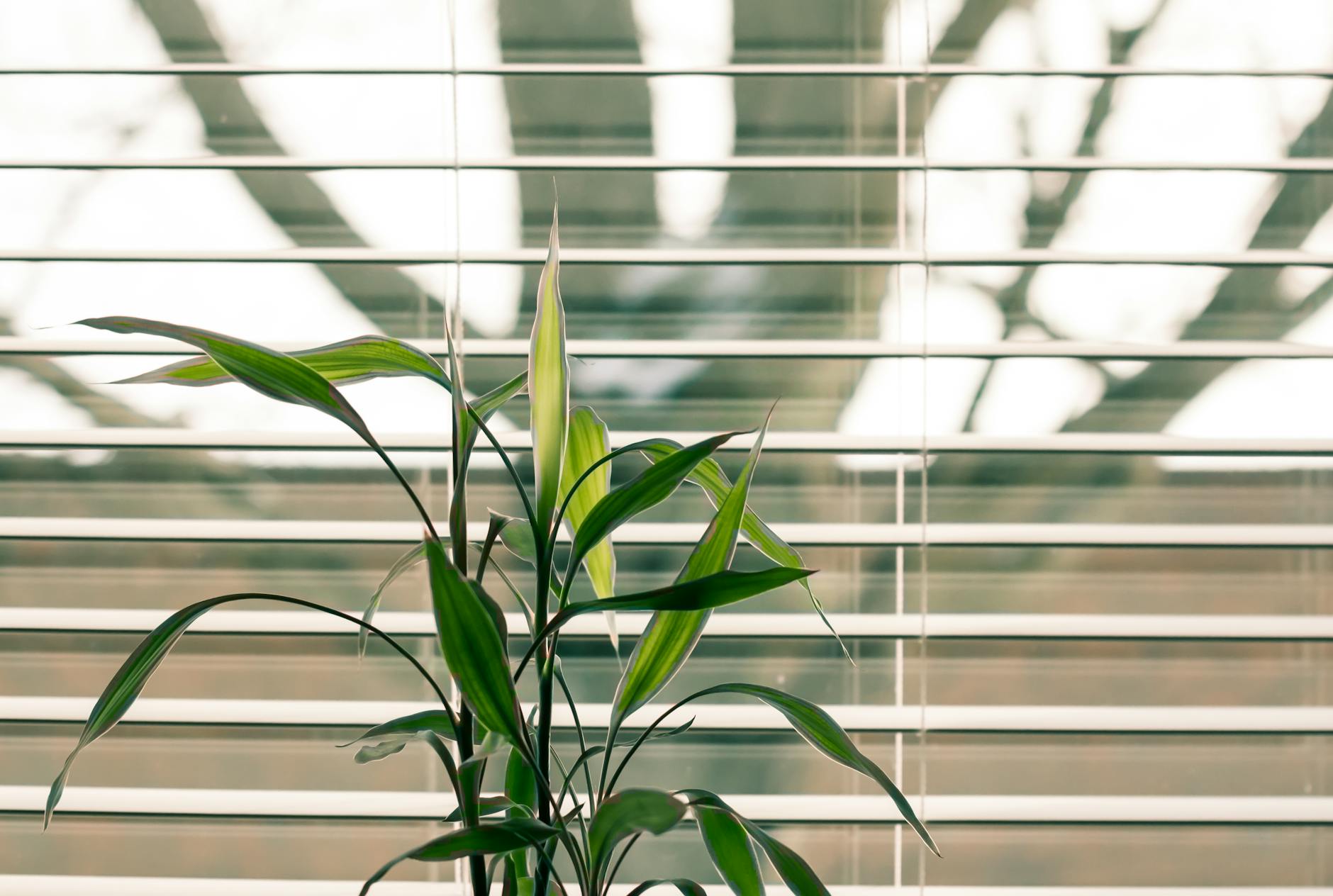 Source
Blinds are hard window coverings that are often composed of slats and vanes that tumble down as they are lowered or pulled across. Blinds usually come down across the window horizontally from a cord or pulley. 
Aesthetic: 
Blinds come in many colors and wooden tones but are mostly seen without a pattern. To make them aesthetically appealing or give a softer look, you can top them with a sheer curtain or valance. Blinds have a lifting mechanism attached to them to help you lift them upwards and downwards. They are widely used today because of their aesthetic appeal. Blinds match with the modern-day lifestyle needs more when compared with curtains. 
Cost-Effective: 
Materials like vinyl and plastic are the most cost-effective and affordable than aluminum or wood or any other expensive material. They require less material and less time to be manufactured and installed. Whereas, on the other hand, curtains are usually pricier as they consume more material and time. 
Warmth: 
Blinds come in different materials and a wide range of fabrics that are translucent to sunscreen and thermal to block out. When it comes to keeping your home warm, honeycomb blinds or thermal lined roman blinds will work the best. Sunscreen roller blinds are great at providing UV protection during the summer months. While blinds offer more ways to control light, their slatted design might let some light in while they remain closed. They are good for delivering insulation in both cold and warm weather and also provide high levels of privacy. 
Maintenance
Blinds are super easy to clean as they have a hard slick surface. They have the ability to be dusted and wiped clean easily. Whereas curtains need more involvement and maintenance. Blinds usually are easy to install and don't take up much of a space. They are compact with respect to the design. Blinds can also be fitted to the window perfectly edge to edge and they also offer great energy efficiency without the potential of cutting off heating sources such as covering radiators. 
Sound Control: 
When it comes to sound, control blinds, unfortunately, allow sound to pass through them easily as compared to curtains. Blinds often create a rattling sound during windy weather while they hit the windows which can be a little bit annoying at times.
Conclusion: 
As we have discussed some detailed factors in our curtain VS blind debate, it is difficult really to say which supersedes the other. It mainly depends on the taste and budget of an individual. People use a combination of fits in their homes depending on what appeals to their interior sense the most. You can choose blinds for spaces like for example, a bathroom or a kitchen and opt for curtains for spaces like a bedroom or a lounge which needs more privacy and light control. 
Blinds are particularly useful in kitchens, because of light and ease of cleaning. Light curtains are suitable for an airy atmosphere while heavier and rich fabrics like velvet are better suited for cozy settings. In the end, it all comes down to the idea of what you actually need or prefer for your home. 
The right selection will not only enhance the oomph factor of your house but would also introduce your personality and taste to your guests and visitors. Moreover, the beautiful a house looks, the happier the inhabitants are. It is a great idea to invest wisely on blinds or curtains to add value to the overall interior look of your house.